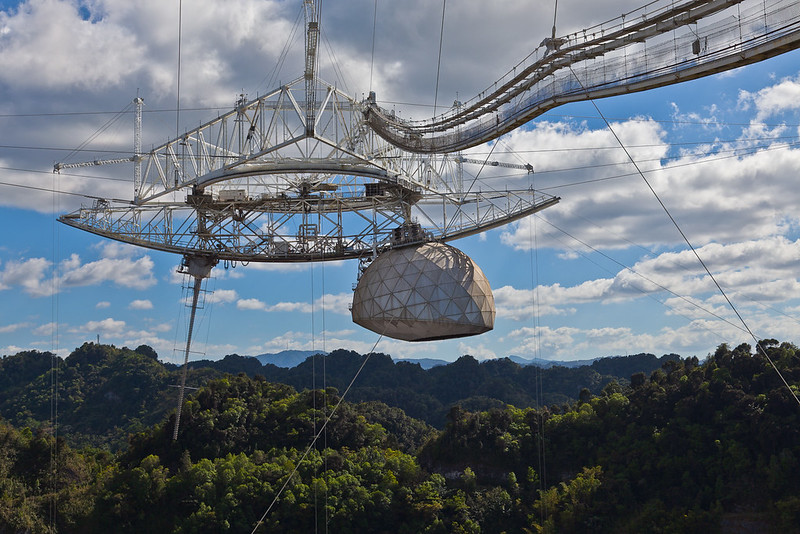 Astronomists sadly bid farewell to Arecibo Observatory's 57-year-old radio telescope in Puerto Rico.
The Arecibo telescope was the second-largest radio satellite in the world at 1,000 feet (305 meters) in diameter. Its massive size and ideal location meant Arecibo was nearly unrivaled at transmitting or receiving radio signals. 
Unfortunately, age and weather wore it down over the last half-century. In December 2020, the telescope was significantly damaged and eventually collapsed, sealing its fate. Now scientists mourn the loss of the iconic historical telescope.
Arecibo Telescope 
The Arecibo telescope was constructed in 1963 by Cornell Professor William E. Gordo, who was interested in using radio light to analyze the ionosphere–part of our upper atmosphere. Radio telescopes collect and analyze weak, natural radio waves from objects in space, such as planets and stars.
Since then, scientists have used the telescope for many other groundbreaking scientific discoveries.
Its most famous contribution was during the 1974 Search for Extraterrestrial Intelligence (SETI) effort. The telescope transmitted a 3-minute-long radio message, "the Arecibo message," to a large cluster of stars called M13. Arecibo located the first binary pulsar (a system of two stars orbiting the same object) in 1974, and in 1992 the telescope helped discover the first planet outside our solar system.
Arecibo's incredible discoveries are thanks to both its location and huge size. Scientists purposely built Arecibo close to the equator in a natural sinkhole found in northwest Puerto Rico. Planets pass directly above the equator, making it easier for the telescope to observe them.
Wear and Tear
Unfortunately, the Arecibo telescope faced wear and tear in recent years. Along with the rest of Puerto Rico, the telescope and observatory suffered significant damage from Hurricane Maria in 2017. The devastating hurricane broke off the telescope's 96-foot (29 meters) antenna, which then punctured the giant metal dish.
In August 2020, one of the structure's major cables fell out of its socket and damaged the telescope's large dish. While repairs were being made, another cable fell in November 2020, causing more damage. Officials believed the telescope was on the brink of collapse and recommended shutting it down. 
Unfortunately, the officials' dire predictions came true on December 1. A 900-ton platform, suspended above the towering satellite by worn cables, suddenly fell. The platform broke the top section of all three satellite support towers, made a heavy impact on the dish itself, and significantly damaged the surrounding facilities. Fortunately, no one was hurt.
The Arecibo telescope holds a special place in the hearts of scientists and astronomy fans alike, and nothing can replace its historical and cultural significance. However, most of the actual scientific work done by the telescope is not lost. The observatory's scientists can continue most of their research from different observatories.
The video below shows the discoveries and legacy of Arecibo. 
https://www.youtube.com/watch?v=https://youtu.be/4ml-Epd_WJ4
Sources: NYTimes, NSF, Space.com, NPR, Verge, naic.edu