A new chapter has opened in Kaavan the elephant's life. 
Kaavan had been in captivity for three decades at a zoo in Islamabad, Pakistan. After losing his female partner in 2012, he had become increasingly lonely and had been neglected and chained. 
When Kaavan's plight caught the attention of Cher, thanks to animal activists, she decided to help. Cher led a social media campaign through her nonprofit Free The Wild and petitioned authorities in Pakistan to close the zoo.
Finally, the court in Islamabad ruled that the conditions at the zoo were "subjecting animals to pain and suffering" and ordered it closed. Most of the animals have been relocated to sanctuaries. For Kaavan, it has meant a long flight from Pakistan to an elephant sanctuary in Cambodia.
Elephants In Captivity
Did you know that the first captive elephant in the U.S was brought from India in 1796 aboard a ship? The two-year-old female was sold in New York and was part of a traveling exhibition. Since then, elephants from Africa, and Asian countries like India and Sri Lanka have made their way to the U.S and around the world. 
Elephants are social animals that live and move in large groups of 100 or more in the wild, sometimes traveling as much as 50 miles a day. They communicate with each other through body gestures and vocal sounds and mourn the loss of a friend or family for days. Elephants also have keen hearing and can sense if another of their species is in trouble more than 100 miles away.
However, in captivity and forced into small enclosures, elephants develop physical problems like arthritis, foot disease, or obesity, and behavioral problems like swaying and bobbing their heads. While wild elephants live up to 70 years, those in captivity have half the lifespan. In addition, circus animals are tortured with cruel-looking instruments and made to do unnatural acts like sitting on stools.
In 2004, Detroit became the first major zoo to shut down its elephant exhibit and in 2015, Ringling Bros. and Barnum & Bailey Circus retired their elephants. 
A Happy Ending For Kaavan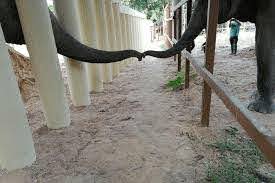 Kaavan had been gifted to the Islamabad zoo by Sri Lanka when he was just a baby. However, because he had been shackled to chains for years and fed unhealthy food, he had become obese, aggressive, and depressed, and had overgrown nails from neglect.
The organization Four Paws sent their veterinarian Dr. Amir Khalil to help Kaavan lose weight so that he could fit into a crate for the journey. He was finally ready for the journey on Monday, November 30th, and his biggest supporter, Cher, was there for him. 
Kaavan has been quarantined in a separate enclosure due to the pandemic at the vast Kulen Promtep Wildlife Sanctuary in Cambodia. He has been socializing with three female elephants in adjacent enclosures and was even seen locking trunks with one of his neighbors.
Once released, Kaavan will be free to roam the 25,000 acres with his new friends. A happy ending for this gentle giant!  
https://www.youtube.com/watch?v=https://youtu.be/dyvP89yj0ko
Sources: NY Times, lcanimal.org, navs.org, Guardian, Washington Post